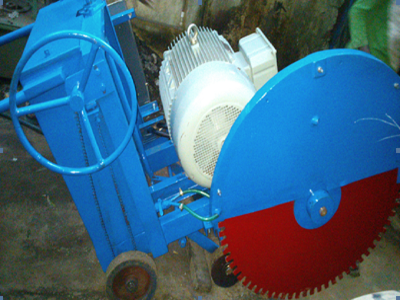 Electrical Concrete Cutter Machine
SPECIFICATIONS:
Prime Mover : Electrical Motor
Power : 30 HP
Blade Sizes : 600 mm (24") To 1200 mm (48")
Standard Shaft : 100 mm dia with 300 mm dia flanges
Weight : 400 Kgs (Approx)
Size : 1200 mm x 600 mm x 1200 mm
FEATURES:
Electrical Motor gives the required power without any restriction for any given purpose.
Power rated for 100% Duty cycle.
Well balanced machine for minimum operator fatigue.
Improved Water Dispensing system to ensure proper cooling of the blades.
Better cooling means better performance and life of the Blades.
Reduced Vibrations means faster cutting and better cuts with minimized chippings.
Improved Blade Guard system to ensure the cleanliness of the machine components and protection to the operator from splashing of slurry.
Provision to change the Blade RPM by manipulating the pulleys.
Three phase power supply (in the form of Diesel Generator) is required at site to suit the motor capacity.